FLAG PINS
One of the most demanded pins among the collectors are flag custom pins from every city, region and country of the world. They are pins that can be quickly manufactured, including all kind of colors and details. Moreover you can order full sets, what it's an extra incentive for collectors. You can also design your own flag custom pin for your town hall, association or club.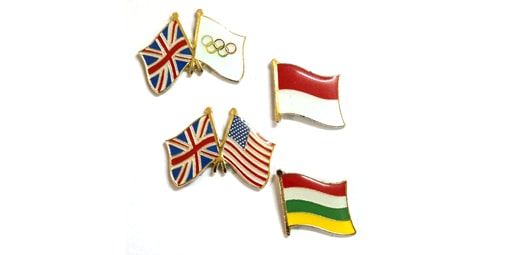 Some samples of flags done by us
At Pirate Pins we manufacture the best quality custom pins available on the market. Whether you are a company, association, town hall or private individual, at Pirate Pins we have the custom pins you need. You can choose from different materials, qualities, presentation options and much more, so that you can create a unique and original product. Our team of experts will advise you step by step throughout the design and customisation process to ensure that you receive exactly what you need without spending a single extra euro. Contact us to find out more about how to make your custom pins.
What kind of customization can I do to my pins?
Pirate Pins offers many customisation options for your pins. You can choose between different materials, qualities, colours and fastenings. You can choose classic round, square, rectangular pins or even your own design. You can also decide if you want 2D pins or 3D pins that are even more impressive. You can choose from gold custom pins, silver custom pins or black pins. The pins can be plastic or metal.
Where to buy and make custom pins?
When you have decided to buy custom pins it is very important to find a reliable supplier that meets your price and quality expectations. At Pirate Pins we are experts at providing our clients with the best quality products at the best price and with a minimum delivery time. We manufacture cheap custom pins for all kinds of events, fairs, congresses, associations and companies. All you have to do is send us your design or idea and we will do everything for you.
Wholesale of pins for companies :
For companies or associations that place large orders for custom pins we offer a large discount. We design custom corporate pins for all types of companies and occasions. Contact us for more information.
Quality and materials of our pins :
Pirate Pins offers you the opportunity to make your custom pins in a variety of materials. Metal, PVC, rubber or printed pins.
You can also choose from different qualities to suit your needs as much as possible: strong enamel pins, soft enamel pins or printed pins. If you are looking for quality customised pins, enamelled pins are the answer: they have a great durability and a characteristic shine that makes them ideal for big occasions and demanding collectors. If, on the other hand, you are interested in a large number of customised pins in a short period of time, printed pins are the best solution because, thanks to their manufacturing technique, they can be obtained very quickly. This type of pin is very suitable for advertising and promotional events.
How much does it cost to customize my pins and how many units can I order?
The minimum order for custom pins is 50 units. The final price will depend on the customisation options you have chosen: material, quality and quantity of units.
Where do you send and where are you?
Send our custom pins to us anywhere in the world.